There are experiences of life riveted to our minds that remain as vivid today as when they first occurred. Hurricane Hugo was one of those experiences.
About midnight on September 22, 1989, a Category 5 hurricane by the name of Hugo landed on the coast of South Carolina. Packing winds of nearly 150 mph and bringing with it a storm surge of 20 feet, Hugo left a trail of debris in its wake. Damage was estimated at 7 billion dollars. Lives were changed forever. South Carolina was changed forever.
On the eve of Hugo's landfall, I remember my parents talking on the phone with some of our family living in Mount Pleasant just across the Cooper River outside of Charleston. Governor Carroll Campbell issued a State of Emergency and ordered an evacuation along the coast. Some unwisely chose to ride out the storm, and in many cases, that decision proved to be fatal.
Then an 8th Grader at Fulmer Middle School in West Columbia, SC, I had lived through storms before, but nothing of this magnitude. Even as far inland as Columbia, shelters were making ready and preparing to receive evacuees from the coastal region. All four lanes of Interstate 26 were redirected outbound from Charleston. The National Guard halted all traffic moving into the Greater Charleston area. Surprisingly, it took the better part of 12 hours for my aunt and uncle to drive 100 miles from Charleston to Columbia.
My father worked for AT&T and was called out during the night. He and several other fiber-optic cable technicians pulled generators from Columbia to Sumter in an attempt to keep communication lines up and running. Columbia to Sumter is only about 40 miles, but it took them nearly 4 hours. Along the way they were forced to stop and clear the road of fallen trees and debris. In some cases chainsaws were needed.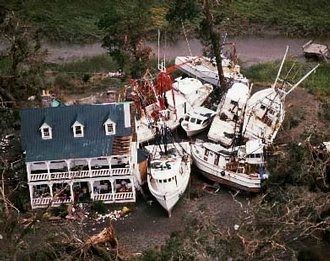 Back home, my mom, sister and I, huddled together in the bathroom. Free from any windows, we decided to setup camp in what we considered the safest place in the house. All through the night we listened as the wind howled and driving rain slammed against the house. It was an intense night that I will never forget.
Morning came. The sun shone brightly in a cloudless sky. We emerged from our safe haven to assess the damage. I remember standing on the front porch thanking God for His hand of protection.
Storms are a metaphor for life.
All can be going well; sun shining, birds singing, and hammock calling, but terrifying splashes of chaos can quickly interrupt blissful moments of calmness. In a matter of sheer minutes, storm clouds roll in, birds take to flight and we find ourselves trading in our hammock for an underground storm shelter!
I'm reminded of a story in the Bible where Jesus and His disciples are in a boat and a storm appears out of nowhere. The disciples scramble in terror and even prepare to perish; "This is it! We're not going to make it!" All the while Jesus is napping in the front of the boat. In making an appeal to their weak faith, Jesus' thundering voice declares "Peace, be still." Scripture says immediately the winds and the seas were calm. (Mark 4:35-41)
I don't know about you, but there are times when it seems a Category 5 hurricane has just made landfall in my life. More times than not there is little to no warning, and in that moment, I am faced with a decision; "Do I attempt to deal with this in my own limited strength or do I lean on the unlimited strength of Almighty God?" God is sovereign and nothing happens in our life apart from His bidding; He either ordains it or allows it. Yet, God leaves the choice to us. What do you choose?
I can tell you that without exception, every time I have trusted in the Lord and leaned on His unlimited and unwavering strength, I've weathered the storm and survived to see the sun come out another day. Never has God failed me. My track record is not near as good.
I'm grateful that God walks with us through the storms of life. I'm grateful that we can choose to even praise Him in the storm. Indeed, He was with us 27 years ago and He's been with us every minute since.
Storms will come.
It's not a matter of "if" but "when." And when it comes, who will be your strength? May it be the One whom the winds and seas obey.
"Trust in the LORD with all your heart and do not lean on your own understanding. In all your ways acknowledge Him, and He will make your paths straight." Proverbs 3:5-6 NASB