*Article was published in the October edition of The Herald; a monthly publication of Green Hill Baptist Church.
"O Lord, You are my God; I will exalt You, I will give thanks to Your name; For You have worked wonders, Plans formed long ago, with perfect faithfulness."


Isaiah 25:1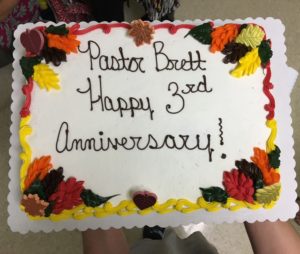 On Sunday, October 2nd, 1951, Green Hill officially constituted as a Church, which means that this year during our Homecoming celebration on Sunday, October 2nd, 2016, we will be celebrating our 65th Anniversary. It's a blessing to see God's faithful hand at work in our lives and in the life of His church through the years. Indeed, He has "worked wonders, Plans formed long ago, with perfect faithfulness."
Before the foundation of the world, God had a plan for Green Hill Baptist Church. In His sovereign grace and providence, He placed us in the mission field of West Columbia. Yet, in taking the Great Commission seriously, Green Hill has carried the Gospel to faraway places such as: Romania, Suriname, India, Brazil, Haiti, Cambodia, Kenya and North Africa. Seeing God at work in the lives of His people is one of the greatest joys of a pastor. From seeing lost souls come to a saving knowledge of Jesus to seeing them grow and mature as one of His committed followers, there's nothing like joining God in what He is doing.
As we celebrate another year of God's faithfulness to us as a Church, I thought it would be appropriate to look back and remember how it all began. Consider these words from one of our historical records:
"In the late spring of 1951 a group of approximately thirty-six people gathered for prayer services on Wednesday evening in the yard of Mrs. J.C. Sightler. Mr. Jack Douglas, then a non-Christian, offered a store building rent-free for a meeting place. This building was located on the Charleston Highway just east of the railroad. Full time, regular services with Sunday School and Wednesday evening prayer services were begun. On October 2, 1951, the group of members was organized into a Southern Baptist church and on November 5, 1951, at the Annual Meeting was admitted into full fellowship of the Lexington Baptist Association, thus becoming a member of the Southern Baptist Convention."
I hope that you will join us for Homecoming on Sunday, October 2nd. Please invite other family members and friends to come and celebrate with us. We will be sharing in a fellowship meal immediately following morning worship. Rev. Jason Sturkie, Pastor of Donald's Baptist Church, will be preaching God's Word. Jason is no stranger to Green Hill. Until moving away to attend Erskine College, Green Hill was his home church. We welcome the Sturkie Family and look forward to worshipping our great God together.
Grace and peace,
Pastor Brett