"Enter His gates with thanksgiving and His courts with praise. Give thanks to Him, bless His name." Psalm 100:4
President George Washington declared the first Thanksgiving in the United States by designating November 26, 1789, "as a day of public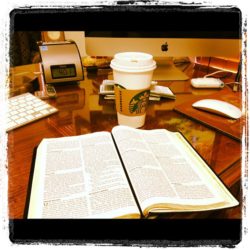 thanksgiving and prayer to be observed by acknowledging with grateful hearts the many and signal favours of Almighty God." Later in 1941, President Franklin D. Roosevelt would sign a joint resolution of Congress to have the national Thanksgiving Day changed from the last Thursday of November to the fourth Thursday. Roosevelt's reasoning was that an earlier celebration of the holiday in proximity to Christmas, would give our country an economic boost. Of course, the busiest shopping day of the year – Black Friday – would eventually prove this to be true.
Sadly, however, I would argue that Washington's aim of "public thanksgiving and prayer" to Almighty God on Thanksgiving Day has been overshadowed by the day-after door-buster specials and retail competition. Instead of "enter His gates with thanksgiving and His courts with praise," as the psalmist declares, the masses enter stores, storm aisles and fight over stuff. I once observed two grown women playing tug-of-war in Wal-Mart over what appeared to be the last coveted item on the shelf. I wish back then my cell phone had had a camera, it would have made for some "good" sermon material! As I walked away I remember thinking to myself, "this is not what Thanksgiving is all about!" Indeed, it's not.
When our hearts and minds are preoccupied with other things, there's very little room for "thanksgiving and prayer." Many things can distract us from meaningfully celebrating Thanksgiving, Christmas, and even Easter. So, what are some practical ways we can keep our hearts and minds focused on the Lord?
I want to suggest three:
Public Worship – God created us to worship, but we must worship Him as Creator and avoid worshipping created things. One way to do that is by remaining committed to corporate worship and the ministry of the church.
Plentiful Giving – generous giving of our time, talents and treasures should mark our lives. Jesus gave His very life at Calvary. The truth is, we are never more like our Savior than when we are giving.
Personal Piety – as Christians, we have been 'set apart' from the world and united with Christ. Therefore, we should always be going against the grain of culture; not easily swayed by the surrounding world. Consistent prayer and study of God's Word are the two most important things we can do to accomplish this aim.
Church, as the holiday season draws near, let's keep our hearts and minds focused on the Lord. He is the giver of every good and perfect gift. Happy Thanksgiving!
Serving Together,
Pastor Brett