The following essay was submitted by Brett W. Marlowe to Dr. Nathan Finn in partial fulfillment of 5130C – Baptist History: Heritage, Identity, Polity for the Fall Term 2009, Southeastern Baptist Theological Seminary.
I was raised in a Christian home. In fact, I was in church before I was born. My father was Pentecostal and my mother was Southern Baptist. While growing up we often alternated in attending the Pentecostal church and the Southern Baptist church. Looking back, this was instrumental in helping me flesh out doctrinal positions; particularly the doctrine of perseverance. Eternal security is a common topic of debate among Baptists and Pentecostals. I can recall many discussions with Pentecostal family members when we gathered for Christmas or Thanksgiving holidays. It never failed that these theological discussions would ensue. A common point of contention always seemed to stem from a negligent use of Scripture (i.e. proof-texting). Proof-texting is the practice of choosing a single verse to support a particular theological position. Never should a single verse be isolated from it's surrounding context, but evangelicals do it all the time. This underscores the importance of using sound hermeneutical principles of context, syntax, and authorial intent when trying to understand the meaning of a biblical text.
While a passage of Scripture may apply to our life in numerous ways it has only one meaning. [Meaning one – Application many]
Following considerable study of the Word I have come to believe that a person who has placed faith in Jesus Christ is eternally secure in their salvation. This is just one example of many that I could share with respect to my theological convictions. While there are numerous denominations represented within my circle of family and friends, I personally identify as a Southern Baptist.
There are a number of theological convictions important to me as a Southern Baptist. There are five, in particular, that I consider foundational to my faith: (1) the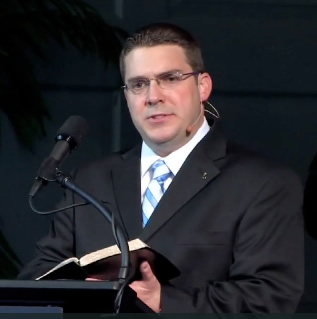 authority of Scripture, (2) the priesthood of the believer, (3) congregational polity, (4) baptism by immersion, and (5) the cooperation of churches in reaching the nations with the gospel.
As already mentioned sound hermeneutical principles are important, especially when evaluating matters of doctrine and theology. These five theological convictions seem to be consistent with the whole counsel of God's Word. Therefore, what does Scripture teach with respect to these five doctrines? We now turn to address this question.
First, Southern Baptists affirm the authority of Scripture. The doctrine of Scriptural authority includes inerrancy, infallibility, and divine inspiration.
"All Scripture is inspired by God and profitable for teaching, for reproof, for correction, for training in righteousness; so that the man of God may be adequate, equipped for every good work" (1 Tim. 3:16-17).
The Bible is God's revelation of Himself to humanity. The original manuscripts penned in Greek, Hebrew, and Aramaic are free from error, incapable of misleading, and written by men who were carried along by the Holy Spirit (2 Pet. 1:21). This conviction mandates that scriptural teaching is true at all times, for all people, and for all circumstances. If we jettison this high view of Scripture then there is no hook with which to hang our doctrinal and theological convictions. The Conservative Resurgence of the 1980's was largely a battle for the Bible. I count it a blessing to be a Southern Baptist and a student at Southeastern Baptist Theological Seminary. Today, both the Seminary and the denomination hold a non-negotiable stance on biblical authority. Unfortunately, this was not the case 25+ years ago.
Second, Southern Baptists affirm the priesthood of the believer. This doctrinal belief affirms the teaching that all believers possess the Holy Spirit and can receive guidance from the Lord. "But you are A CHOSEN RACE, A royal PRIESTHOOD, A HOLY NATION, A PEOPLE FOR God's OWN POSSESSION, so that you may proclaim the excellencies of Him who has called you out of darkness in to His marvelous light" (1 Pet. 2:9). This doctrine is joined with congregational polity in that it champions a non-hierarchical structure within the body of Christ. An elder is not a dictator, but rather, a leader of the people of God under the rule and reign of Christ.
Third, Southern Baptists affirm congregational polity as an effective form of church government. Congregationalism is directly related to the doctrine of the priesthood of all believers. There are at least seven major texts within specific contexts that affirm congregational polity. First, church discipline argues in favor of congregational polity; "If he refuses to listen to them, tell it to the church" (Matt. 18:15-20). Church discipline is a ministry of discipleship that should never be enforced or practiced apart from a unified church body. Furthermore, the pastor should never act as a "Lone Ranger" when addressing an issue of church discipline. The church is the final arbiter for matters of discipline.
A second passage used to support congregational polity is Acts 6:3; "Therefore, brethren, select from among you seven men of good reputation, full of the Spirit and of wisdom, whom we may put in charge of this task…" We find in this verse that the church was responsible for selecting the first deacons within the church. Specific tasks were delegated to deacons so elders could focus on prayer and the ministry of the Word.
A third passage used to support congregational polity is Acts 13:2-3; "While they were ministering to the Lord and fasting, the Holy Spirit said, 'Set apart for Me Barnabas and Saul for the work for which I have called them.' Then, when they had fasted and prayed and laid hands on them, they sent them away." The church commissioned the first missionaries.
A fourth passage used to support congregational polity is Acts 15:22; "Then it seemed good to the apostles and the elders, with the whole church, to choose men from among them to send to Antioch with Paul and Barnabas…" This verse explains that the church was involved in resolving a question of doctrine. This applies to circumstances of church discipline meant to promote doctrinal and ethical purity within the body of Christ.
Finally, as it relates to congregational polity, there are several passages that affirm the authority of the local church (1 Cor. 5:2, 2 Cor. 2:6, and 1 Tim. 5:19-20). Congregational polity affirms the authority and the autonomy of the local church. The authority of the local church is grounded in the Headship of Jesus Christ (Col. 1:18). This means that there is no authority on earth that stands above the local church. While this affirms the separation of church and state it also affirms the autonomy of the local church. Southern Baptists believe that each local congregation is autonomous; the church is self-governing and free from hierarchical leadership.
Southern Baptists affirm congregational polity over other forms of church government such as Presbyterianism (government by elders) and Episcopalianism (government by bishop). The authority of the local church has been given to the priesthood of believers. Therefore, any hierarchical structure presents some major theological problems. Southern Baptists believe that each local church is responsible for carrying out her function under the Headship of Jesus Christ and in support of elder leadership.
Fourth, Southern Baptists affirm baptism by immersion. The central idea of baptism is the identification with Christ. Scripture teaches that we are baptized into Christ (Rom. 6:3, Gal. 3:27) and we become identified with his death, burial, and resurrection. Humanity is totally depraved, which means that all aspects of humanity have been corrupted by sin. Therefore, the mode of immersion most effectively pictures the gospel as the entire body is submerged to identify with the death, burial, and resurrection of Jesus. Some denominations practice infant baptism and baptism by sprinkling. However, Southern Baptists believe that a subject for baptism must clearly understand the gospel, believe the gospel, and experience conversion. Infants and most small children are incapable of attaining such an understanding.
Fifth, Southern Baptists affirm a spirit of cooperation among churches for the purpose of reaching the nations with the gospel.
"Go therefore and make disciples of all the nations, baptizing them in the name of the Father and the Son and the Holy Spirit, teaching them to observe all that I commanded you; and lo, I am with you always, even to the end of the age" (Matt. 28:19-20).
Clearly, Jesus has given a task that is too great for a single church to accomplish. It requires all churches to faithfully fulfill her mandate to take the gospel to the nations. The New Testament church described in Acts models believers partnering together for ministry; "And all those who had believed were together and had all things in common; and they began selling their property and possessions and were sharing them with all, as anyone might have need" (Acts 2:44-45). The New Testament provides sufficient support of congregations partnering together; "After I left Macedonia, no church shared with me in the matter of giving and receiving but you alone; for even in Thessalonica you sent a gift more than once for my needs" (Phil. 4:15-16).
Southern Baptists believe that believers working together can be more effective in reaching the nations.
This conviction is evidenced by cooperating local churches, associations, state conventions, the International Mission Board, and North American Mission Board. Churches partnering together is a beautiful picture of the kingdom of God as people from every tribe, tongue, and nation are reached with the gospel.
There are a number of other theological convictions that serve to support my Southern Baptist identity, but these five are foundational. As I have studied other denominations and have evaluated their doctrinal positions according to the teachings of Scripture, Southern Baptist doctrine most closely aligns with my personal convictions. Ecclesiology distinguishes Southern Baptists from other peoples, specifically, the issue of polity and church government. I affirm the Baptist Faith and Message (2000) not because of its endorsement by the Southern Baptist Convention, but rather, because the confession most closely aligns with my theological convictions.
Studying the history of Baptists has been beneficial to my understanding of the movement from Europe westward. Reading of the sacrifices and the whole-hearted commitment of early Baptists has also been a source of encouragement. Throughout history, Baptists have held to their theological convictions in the face of much persecution. For nearly 400 years, Baptists have affirmed immersion as the proper mode for baptism. While this is not a widely debated topic among Southern Baptists today, it is still important to know that Baptist doctrine is grounded in Scripture.
Baptist ecclesiology rests upon the right preaching of the Word and the administration of the ordinances (Baptism and Lord's Supper).
From the time of the separation from the Church of England to the formation of confessions of faith to clearly delineate Baptist doctrine from others, Baptists have historically been a people of distinction. As such, I desire to one day lead a church through the process of drafting a confession of faith. While consistent with the orthodox teachings of the Baptist Faith and Message, it would also be a distinct document affirmed by the congregation.
By God's sovereign grace I am Christian, and by personal conviction I am Southern Baptist. I affirm the authority of Scripture, the priesthood of all believers, congregational polity, baptism by immersion, and the cooperation of churches for the sake of the gospel. For these reasons, among many, I identify with Southern Baptists.
*The New American Standard Bible (NASB) translation used throughout.
This essay was submitted by Brett. W. Marlowe for the Fall Term, 2009 in partial fulfillment of the requirements for the Master of Divinity degree at Southeastern Baptist Theological Seminary.