"Devote yourselves to prayer, keeping alert in it with an attitude of thanksgiving…"
Colossians 4:2 (NASB)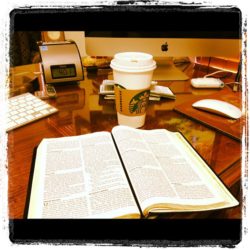 From the dawn of 2017, I've been encouraging our church to seek the Lord for a fresh move of His Spirit. Revival is a must if we desire to see a spiritual awakening in our neighborhoods, communities, nation and world. For the gospel to spread, the lost to be reached, and the church to advance, the hearts of God's people must be "revived" for greater kingdom service.
Prayer is key to revival.
The early church was committed to prayer. We've seen this in our study of Acts. Even on Pentecost, believers were gathered together praying in the upper room when the Holy Spirit showed up. They understood not only the command of the Lord to pray, but that prayer was foundational to their ability to accomplish His Great Commission. This reminds me of a quote from the great 19th century preacher, Charles Spurgeon, who said, "Apart from prayer I can do little, but once I've prayed I can do much." The early church was devoted to prayer (Acts 2:42).
Prayer is key to revival, but it's also key to who we are and what we do as a church. We can do nothing apart from prayer, but after we've prayed we can do much. Prayer is powerful because the God to whom we pray is all-powerful. David Lee, Associate Director of Lay Mobilization at the Lexington Baptist Association, and I have been meeting and praying together about a prayer initiative for Green Hill and "100 Days of Prayer" is the end result.
Consider 40, 50 or even 100 people praying weekly for Green Hill. We can't even begin to imagine what God could do if we would only get serious with Him, devote ourselves to prayer and seek His face together. We need to see what God is doing, so that we then can join Him. Often times we try to dream up an idea or develop a plan of what we think is best, but that's not how God operates. Vision is not created it's received. In other words, we don't draw up a plan and then ask God to bless it. Rather, we pray and look to see what God is already doing and we join Him.
As pastor, I desire to lead Green Hill in this charge. I desire for us to be involved in reaching our neighborhoods, communities, nation and world. It begins with prayer. I'm thrilled and can't wait to see what God is going to do in the coming weeks. I want to encourage everyone to join a Prayer Cluster, which will be a small group of 4-5 people. Each Prayer Cluster will meet together for 14 weeks. The meetings will include a time of sharing and getting to know one another personally, but it will be centered on praying together. Focused prayer is the goal.
"100 Days of Prayer" will launch on Sunday, September 17. Let's devote ourselves to prayer and then watch what God does!
Praying and Serving Together,
Pastor Brett
*Article was published in the September edition of The Herald; a monthly publication of Green Hill Baptist Church.