"I press on toward the goal for the prize of the upward call of God in Christ Jesus."
Philippians 3:14 (NASB)
Goals are important.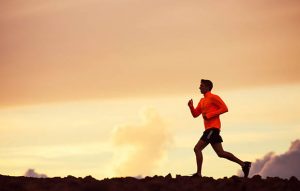 As the old adage goes, "If you aim at nothing you'll hit it every time." Goals help us determine not only the direction we are going, but also make sure we maintain that direction. The start of a new year is often a time for reflection and preparation, but also evaluation. It's a time when God invites us to embrace a new set of opportunities and challenges. On one hand, we are grateful for His faithfulness to us and we celebrate where He's taken us; on the other hand, we look forward to where He's taking us. God's not finished with His church on the earth. We are not home yet, so as we move into a new year let's reflect and remember the past, and let's refocus and recommit to do His will in the future.
The Apostle Paul set one primary goal for his life – to know Christ. To know Him more and more each day of his life, so that in knowing Him, he would become more like Him. Paul was consumed with the pursuit of knowing Christ and growing in his faith. He understood it to be a lifetime pursuit, which is why he said, "I press on." He used the imagery of a runner reaching forward and stretching toward the finish line. The Bible describes the Christian life as a race – not a sprint, but a marathon.
Paul used this same illustration when writing to the Corinthians:
"Do you not know that those who run in a race all run, but only one receives the prize? Run in such a way that you may win. Everyone who competes in the games exercises self-control in all things. They then do it to receive a perishable wreath, but we an imperishable. Therefore I run in such a way, as not without aim; I box in such a way, as not beating the air; but I discipline my body and make it my slave, so that, after I have preached to others, I myself will not be disqualified." (1 Cor. 9:24-27)
Paul had set knowing Christ as the goal of his life, which meant everything in his life had to align with that goal. By keeping this as his aim, he was able to guard against distractions. We can be easily distracted from the race.
If we're not disciplined, we can easily become so enamored with the things of this world that we fix our eyes on stuff rather than the prize, which is our Savior.
So, how can we set the goal of our life to know Christ? How can we run with our eyes fixed on the prize? Let me offer a few simple thoughts. First, we can seek to know Christ more through the study of His Word. Perhaps, we can set a goal in the new year to read our Bible from cover to cover. Second, we can seek to know Christ more through gathered worship. A goal here might be getting more involved in the life and ministry of the church and making sure we are regularly gathering with other believers. Third, we can seek to know Christ more through times of fervent prayer. A good goal would be to pray at all times, not just in times of need.
These goals are attainable, but not in our own power and strength. Accomplishing them will require us to be self-controlled, disciplined and submitted to the will of God. Therefore, let's decide right now in our heart that this is going to be a "new year" for us, and let's choose to "press on" together in the Lord.
I look forward to 2018. Happy New Year!
Serving Together,
Pastor Brett